Feature
Feature of VoiP+.
IP phone service via Internet connection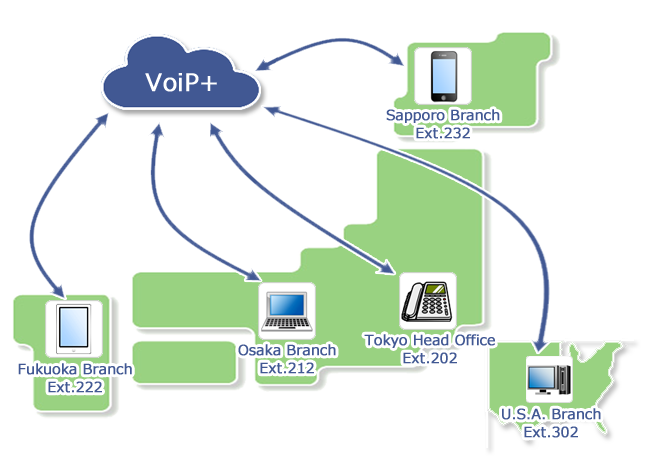 Internet phone service
VoiP+ is a technology that allows you to make voice calls using a broadband Internet connection.
Make free calls to anywhere in the world via internal call.
Usable devices: IP phone (SIP compatible), PC, smartphone tablet, etc...
※Internet connection is required. Some regional restrictions depending on the country.
VoiP+ Basic Service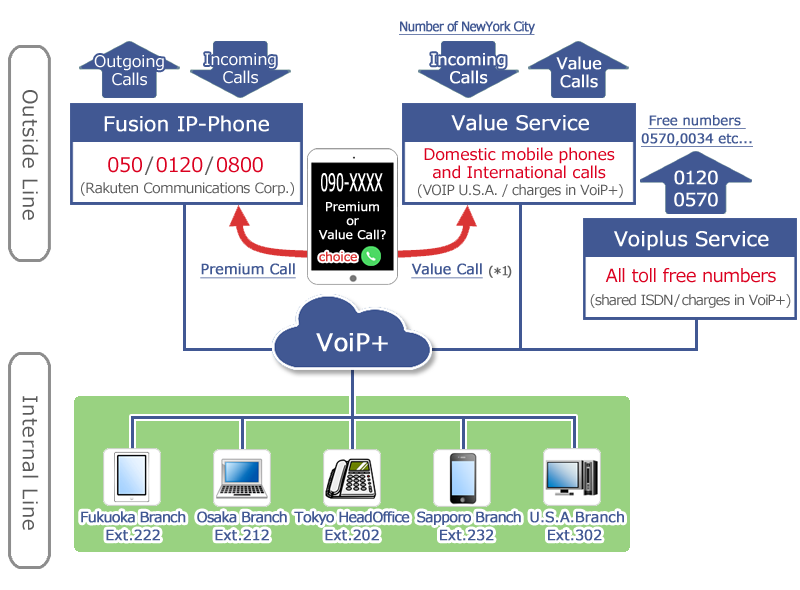 【Incoming calls】
All the registered terminals (IP phone, PC, smartphone, etc.) recieve simultaneous voice calling.
Possible to set the group to call or the day and time zone.(GMT+900)
Call charge will be paid by the caller ( It is not a transfer service)
Possible to transfer to other terminals while connecting calls received from outside lines. Call charge will be paid by the caller side.
【Outgoing calls】
Possible to call with the company number such as 050, 03, 06, 0120, 0800 of Japan number or PSTN of NewYork in U.S.A. from the registered terminals.
Reduce the call rate on international calls and domestic mobile phones via the value call routes.
(*1) Select the Premium or Value Call when calling to domestic mobile phone.
VoiP+ FAX Plus (Except international call routes)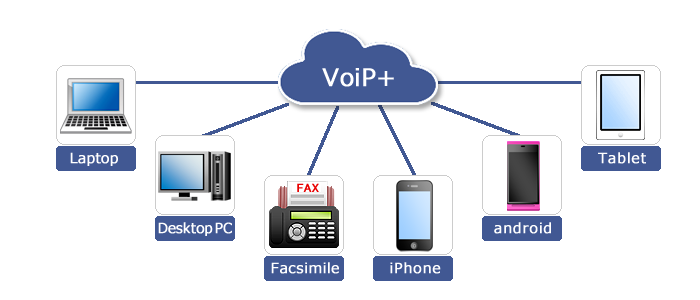 FAX Transmission
Send and receive faxes by using virtual fax modem.
Send Fax by logging in to the Web from PC, smartphone, tablet etc.
Paper-based Fax can be sent by connecting to a conventional FAX machine with a Voip adapter.
All the received fax can be checked at anytime and anywhere as it is converted to PDF and attached to an e-mail.
* Using Fax with a low-cost international phone service or sending multiple pages with small characters is not recommended as it may cause an error.
* Home Fax Machine is recommended to use when using the adapter. Some special business fax machines can not use this servece.
VoiP+ Features and Merits
| | | |
| --- | --- | --- |
| | Business Phone System | VoiP+ |
| Cost and Time | PBX is high cost and need liney RJ11 | Low cost and easy to use internet with RJ45 |
| Usage | Only in the Office with RJ11 | Can register from any where by internet |
| Branch connection | Hard | Easy |
| Change dial plan | Hard and need cost | Easy to change on the WEB |
| Relate to PC | No | Yes |
| Rate of charge | Hign | Low |
VoiP+, we greatly reduce costs and improve convenience from conventional business phones.
Low installation cost and easy implementation - No need to install the main unit.
Various devices can be used - IP phones (SIP compliant), smartphones, tablets, PCs, etc.
Call charges between bases and between internal calls are free. Incoming calls can be transferred to the outside lines.
Easy rearrangement of the office with complicated system changes.
Various settings, call history, call charge etc. can be checked by the PC screen on the WEB.
Low rate for domestic mobile phones and international calls.